Thursday, August 30th, 2007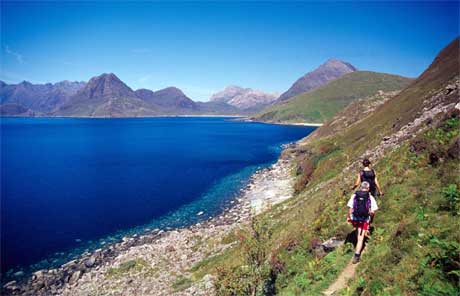 This will seem really strange, but tipped off by a comment on this blog from Walkhighlands, we investigated further. And it turns out to be true: with an Ordnance Survey "paper licence", you can scan maps and put them online as you like.
Price difference compared to the digital licence: it's about 1/50th price, or more if the digital licence waas quoted by a reseller.
There's more at Paper maps rather than digital ones save site 99% in OS fees, which looks at the problems that Walkhighlands – an enterprising new small business based in Skye, which offers walks in those most beautiful (and remote, and in need of urban visitors looking to spend some time and cash, such as the picture above of Skye) – had in trying to put digital versions of the maps of its walks online.
Set up only this February, it operates from Staffin, in northern Skye, and already gets an average of 600,000 hits every month from about 18,000 visitors a month. It has recently been chosen as one of 26 new businesses to receive funding from Nesta, the National Endowment for Science, Technology and the Arts, and features more than 250 walking routes, which its organisers are expanding all the time.
But when Paul Webster, who runs the site, inquired into the costs of putting printable Ordnance Survey maps on the site (which already offers links to buy the full printed versions), he was horrified by the cost quoted by a reseller: £20,000 per year for the licence for the digital data. (OS says that it did not give a direct quote for that data). Trying to pay that would bankrupt the site.
..However…
instead, he turned to paper. "As long as you have purchased a 'paper' licence, you can scan maps and put them on the internet – as long as the webpage and the map doesn't contain advertising," he explains. He insists that the OS put this permission in writing – which it did, with a letter from a "senior service advisor".
(We have seen a copy of the letter.)
This confirmed that "paper map extracts currently displayed on your website are covered by your Paper Map Copying Licence". This, the letter says, is because "
the map extracts are being used as an information tool on your website to enhance your business
the mapping is not being sold and you are making no financial gain from the use
the map extract would need to be used in conjunction with the whole map sheet to give your extract context
there is no advertising on the same pages
".
Now, digital maps have far more utility than scans of paper ones – you can do all sorts of things with them that you simply can't with a paper one, as Google and Streetmap and Multimap demonstrate. (You can't dynamically calculate a route or a distance on a scanned map, unless you've done some very clever work locating corners.)
But given that OS has to cover its costs, and that the paper licence only costs £50, it can't be economical to issue the licence. It must cost more to administrate than is received. It would, surely, be cheaper and more efficient for OS to make paper map licences free.
Which would be a start.
Of course, as the article points out,
this is not OS's decision: ministers determine how it is funded. But with the trading fund model now being investigated, and OS under fire from a number of other government departments, the time is ripe for a radical revision of its funding regime.
Time for ministers – perhaps with OS's help, if it could say how much it costs to issue a paper licence – to have a think.
(Afterthought: see, we do read your comments – and we do act.)