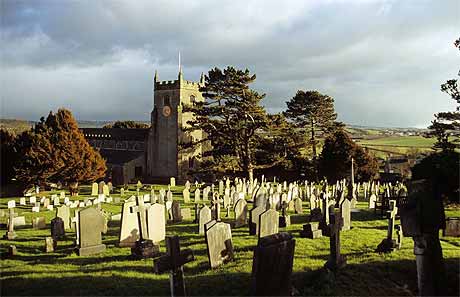 Overdue, but last week's edition of Technology Guardian wrote about the place that we could call the dividing line between personal data and potentially free data: that of death. Like taxes, it's inevitable. And notably under the Data Protection Directives, the dead do not enjoy data protection – details about a dead person can be passed without reference, because (obviously) they're dead.
That means though that dead people are (weirdly) potentially liable to identity theft (people assume the identity of the dead person, if organisations don't realise they're dead; infinitely less risk of the dead person spotting their credit record going sour, after all). And there are other problems too, such as people receiving mailshots at upsetting times, as the article – Direct mail reaches beyond the grave – explains:
In June this year, the Ministry of Defence sent a recruitment mailshot to the family of Lance Corporal Dennis Brady, a reservist with the Royal Army Medical Corps, inviting him to re-enlist. But Brady had been killed eight months previously while serving in Basra.
Although the blunder was very public, prompting a ministerial apology and the MoD to suspend direct mailing, it was not unusual. About 570,000 deaths occur in Britain every year.
The key point is that death data should be shared within government (one of the drivers behind the e-government framework was one of its architects' discovery that in trying to notify a death, a family had to contact official bodies 44 times over a period of 18 months.
Releasing information about deaths, and the identities of the dead – so that they can be removed from databases (and so that credit and other applications in their names would be flagged) would obviously have huge benefits.
Up to now, we have been concerned mainly with information about the natural environment and anonymised statistics, where we think the case for automatic free dissemination is clear. At the other end of the spectrum, data about identifiable citizens should be rigorously protected – the more so as the government moves towards joined-up databases.
Records of deaths lie at the boundary between the two. We believe that, while the existing restrictions on the release of bulk data are absurd, the potential harm to living individuals means that re-users (including those in government) should be under a special obligation to get their facts right.
We'll offer a footnote here to the Bereavment Register, which offers a similar service, aiming to reduce the amount of direct (junk) mail sent to the deceased. It costs money, of course, whereas our scheme might make such prevention in effect free at source, since marketing databases could be cleaned against them. But a company like this could offer a service "cleaning" databases too.
Administrative note: If you want to promote an organisation that has some connection to this campaign (or campaigns against it – we're all for robust argument) then please use your real names. If you want to get in touch separately, then please email me – charles.arthur@gmail.com works well.
The following posts may be related...(the database guesses):