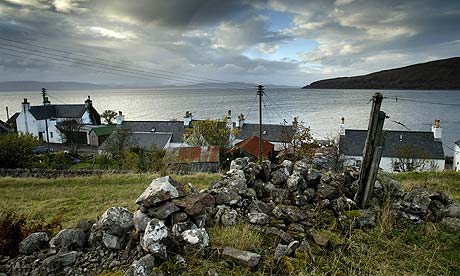 Thursday's Guardian Technology looks at the mysterious ways in which addresses within some postcodes are simply vanishing from the Postcode Address File (PAF) – that enormously useful index of places in the UK which can receive mail. A new Highland clearance? Well, sort of.
In January 2008, the picturesque west Highland village of Applecross contained 32 buildings with postal addresses. A year on, it has only 24. This is not the result of some new Highland clearance, but an absurd consequence of UK government bodies treating data collected in the course of their work as a commercial asset rather than a national resource to be shared.
It's not that the houses are going away; they're very much still there. And they're still owned by people. But Royal Mail, in attempting to maximise the value of the PAF, is removing them because that makes PAF more valuable to direct marketing companies – even while it reduces its utility to local authorities, which initially gave Royal Mail the details of the addresses, because they need to know about habitable locations in order to do things like emergency planning and other local services (dustbin/recycling runs, anyone?).
Royal Mail says it has a policy of removing addresses from the database when houses are unoccupied. "If the postie can no longer reach the delivery point, or if a house is obviously completely unoccupied, the postie informs us and the address is removed from the PAF. If it later becomes occupied, it would be put back on."
And then…

Turf wars between Royal Mail, local authorities and Ordnance Survey over the ownership of postal addresses have a long history, imperilling everything from emergency services to the national census. Local authorities are particularly bitter about the current state of affairs because they have the statutory job of creating addresses in the first place. As one council specialist put it: "Local authorities create addresses, Royal Mail adds the postcode – then this data is sold back to us by Royal Mail and Ordnance Survey."
Any other examples of this that anyone has come across?
The following posts may be related...(the database guesses):