Friday, June 6th, 2008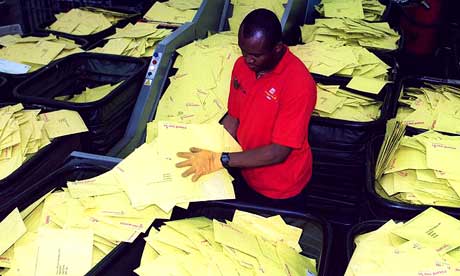 A Royal Mail worker sorts envelopes in the 2001 census. Copyright: The Guardian.
In this week's Guardian Technology we look at the 2011 census – and beyond: the Commons Treasury Select Committee produced a report earlier this year pointing out that the £500m 2011 census is being hampered by rows between the Ordnance Survey, Post Office and local authorities about who owns the intellectual property in addresses, as the Office for National Statistics needs a comprehensive, accurate national address register to carry out its work.
The article, Traditional census is 'obsolete' also looks at what could follow: a rolling census carried out by noting peoples' movements through address registers and so on.
An extract:

Angela Eagle, exchequer secretary to the Treasury, was pressed by Mark Todd, the Labour MP for South Derbyshire who sits on the committee, over the failure to create the register – particularly because, as he repeatedly pointed out, all the intellectual property lies within the public sector. Eagle responded that: "I would not underestimate the difficulty of the issues surrounding [a single national address register]." Todd suggested that a Gordian knot approach – cutting through the complexity at a stroke of legislation – might work. "We can all hope," Eagle responded. But in the meantime, the government's Office for National Statistics (ONS) will prepare its own register – a needless duplication.
The Free Our Data campaign would certainly back a Gordian approach: slice through the 10 years of rows by making the data available for free, without copyright restrictions, where they are gathered by government-owned organisations.
While Todd is no fan of the free data model, we can all agree with his frustration at the way that rows about data owned by public-sector organisations are holding back the development of another public-sector resource, an accurate census. The report recommends that the government "remove any outstanding obstacles to the production of an address register".
But what are those obstacles? Only they know. Todd said: "I don't know whether it's the trading fund status of Ordnance Survey, legalistic barriers or failure of the will by government."
You can find the Treasury select committee report here.